20.000 cerditos murieron quemados vivos en un incendio pero este sitio ya tenía un record de crueldades perpetradas contra los animales: cerditos enfermos golpeados hasta morir, hacinamiento extremo, animales con huesos rotos dejados a su "suerte", animales a los que les salían los órganos internos, etc. En Alemania ya lo han vetado. Tiene prohibido vender allí.
Esta petición es para que se investiguen y cierren las granjas industriales de Adriaan Straathof, el mayor "granjero" de cerdos en Europa.
From:
Mike Baillie - Avaaz
<avaaz@avaaz.org>
Date: 2017-08-08 6:20 GMT+02:00
Subject: 20,000 pigs burnt alive
To: "
n.campdepadros23@gmail.com
" <
n.campdepadros23@gmail.com
>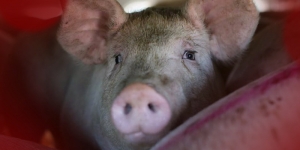 20,000 pigs burnt alive -- the latest in a string of horrors by Dutch farmer Adriaan Straathof. But together we can make sure it's his last, pushing regulators to suspend his permits and investigate all his farms. Add your name, with just one click, and then tell everyone!

Dear friends,
They were burnt alive -- 20,000 pigs packed into tiny pens with nowhere to run.

But his farms were hell long before that: sick piglets beaten to death, extreme overcrowding, animals left suffering with broken bones and protruding organs.

Dutch farmer Adriaan Straathof has a gruesome reputation and Germany has already banned his farming. Now other EU countries must do the same.

The farmer hopes to just carry on, but if we make this huge, we can force a whole new level of scrutiny, and get regulators to suspend his permits while all his farms are urgently investigated. There's no time to lose!
Sign with one click: No More Torture Farms
To local, regional, national, and European regulators:


"As citizens outraged but the incredible suffering of animals on farms owned by Adriaan Straathof, we urge you to take advantage of all possibilities offered by local, regional, national, and European laws to withdraw his farming permits, ensuring he is unable to farm or keep any livestock or other animals. We also urge you to pass stricter fire and animal welfare regulation to make sure this doesn't happen again."
Sign with one click: No More Torture Farms
Straathof is one of the biggest pig farmers in the EU, with 6 mega farms in the Netherlands and a string of others in Hungary and Germany. And while the Dutch food safety authority has inspected his farms 14 times, and reports of abuse, fines, and violations are piling up, he's just got a permit to farm another 11,000 pigs!

Enough -- this isn't farming, it's industrial torture!

Together we can make sure that these were his last victims. Let's create a massive public appeal, forcing regulators to intervene and stop the next bloodbath:
Sign with one click: No More Torture Farms


Avaaz is a 44-million-person global campaign network
that works to ensure that the views and values of the world's people shape global decision-making. ("Avaaz" means "voice" or "song" in many languages.) Avaaz members live in every nation of the world; our team is spread across 18 countries on 6 continents and operates in 17 languages. Learn about some of Avaaz's biggest campaigns
here
, or follow us on
Facebook
or
Twitter
.
You became a member of the Avaaz movement and started receiving these emails when you signed "
Shut down
the Yulin
dog meat
festival!
" on 2016-05-15 using the email address
n.campdepadros23@gmail.com
.
To ensure that Avaaz messages reach your inbox, please add
avaaz@avaaz.org
to your address book. To change your email address, language settings, or other personal information,
contact us
, or simply
go here to unsubscribe
.
To contact Avaaz, please
do not reply to this email.
Instead, write to us at
https://www.avaaz.org/en/contact/?footer
or call us at
+1-888-922-8229
(US).